The Trials of Law School is a documentary about the United States law school system.
The 2 minute trailer presented here gives a glimpse into the law school experience. The documentary seems to accurately capture what law school is all about. It shows a variety of law students in a variety of life experiences—along with the joys and pains of law school.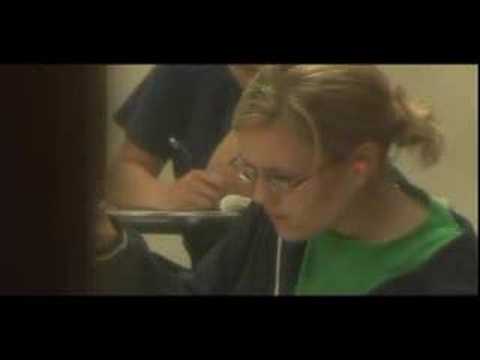 The documentary features Patrick Schiltz, Randy Barnett, Rob Miller, Angela Davis, Taunya Banks, Elizabeth Warren, Ruth McKinney, Mark Tushnet, Richard Primus, Marty Peters, Chris Slobogin, Judith McMorrow, John Goldberg, Charles Daye, David Sokolow, Elizabeth Garrett, Paula Lustbader, Eric Posner, David Becker, John Kidwell, Rich Freer, and many more.
The documentary was filmed at Harvard Law School, NYU Law, Columbia Law School, Oklahoma Law School, University of Texas Law School, SMU, Baylor, American Law School, Georgetown Law School, University of Maryland Law School, Boston University Law School, Boston College Law School, UNC Law School, Elon Law School, Emory Law School, Florida Law School, Vanderbilt Law School, Washington University St. Louis, University of Chicago Law School, USC Law School, Stanford Law School, Wisconsin Law School, Michigan Law School, St. Thomas Law School, Seattle Law School, and Pepperdine.
The Trials of Law School was also featured in the 2007 Dallas Video Festival.
Learn more about the documentary at the Trials of Law School.
See also...
Leave a Reply