CALI's Pre-Law Blog posted a humorous video that raises some interesting questions about the law school on-campus interview (OCI) process. You can view the video here: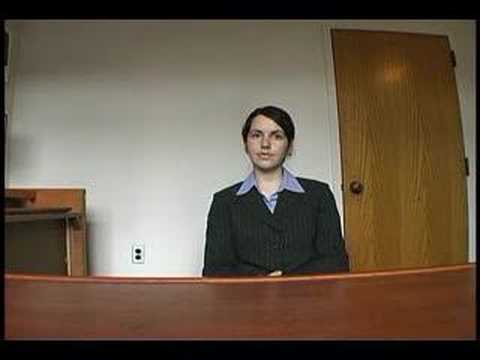 (Source: More on OCI/Law Firm Recruiting.)
Is Some Dishonesty Okay?
The video questions the value of OCI to employers. For example, the video shows the interviewee (law student) giving the answers that she assumes the interviewer (law firm partner) wants to hear.
While that seems dishonest at first glance, is it unrealistic? In today's job market, it seems like over 90% of law students that attend a law school below Tier 1 cannot get a job at a large firm, so they will probably earn $40,000 to $70,000 their first year.
(As a side note, that may seem like a lot until you consider that many of these law students 1) have over $100,000 in loans and 2) may have other expenses like homes and children. It's especially tough for a single-income household to pay the bills and school loans when earning $45,000 a year.)
Many law students won't find a law job at all. This could be because of their grades, their personality, or merely the fact that there are far more graduating law students than law job openings. Law schools continue to graduate more law students than can be absorbed by law firms.
In short, competition for good paying legal jobs is high, and a law student needs to find a job that will pay the bills upon graduation. Thus, law students are very motivated to find a job that will pay the bills, even if it's not the exact type of legal work the law students wanted to do. Law students will compromise and take a job that moderately interests them rather than have no job at all.
So a law student might easily tell a job interviewer, "yes, real estate litigation is one of my greatest interests" to obtain a real estate litigation job, when in actuality, the student is only moderately interested in real estate litigation, but would take the job if no other offers come her way.
Are Partners Dishonest?
I realize law firms would prefer a candidate who is most passionate about the area of law for which they are hiring, but maybe that is an unrealistic desire. Similarly, a partner doing the interviewing is going to put on a good front for the law student, emphasizing the firm's "work-life balance," great work environment, etc., even though the partner knows that associates in her firm work 14 hours a day, the firm's staff is frustrated, and the firm has other problems.
Bad Interview Questions
I especially hate when an OCI interviewer asks law students to name their weaknesses. Nobody in their right mind is going to start listing off their weaknesses: "I am sometimes late, not very organized, gossip about my coworkers, get annoyed easily, don't like to be told what to do, like to surf the web at work" etc. No, instead we are forced to pick one of the many "correct" answers:
I am a perfectionist and worry about every little detail.
I work too much and it frustrates my family and friends.
When I get started on a project I get fixated on it and don't want to give it up.
My friends say I am way too organized, but I guess I feel it helps me stay on top of multiple responsibilities.
Conclusion
I'm not suggesting all law students are dishonest in the interview process. Rather, the point is that CALI's Pre-Law Blog has raised some important questions about the OCI interview process—and law hiring in general—in an era where there are far more law students than there are law jobs, and only the largest firms pay enough for law students to easily cover their bills.
As a result, many law students take jobs that they dislike, merely because that is the only job they could find. That new associate is likely to leave the firm as soon as a better job comes around.
Is there anything that can be done about this problem? Law firms have an interest in answering this question so they can discontinue the routine of hiring new associates, training them in, and then having to look for a replacement after 1-3 years when the associate moves on to the position she really wanted in the beginning.
See also...
6 Responses to "Problems for Law Firms Hiring Law Students"
Leave a Reply